Adults|Spoken|Intermediate|11. Where do we live?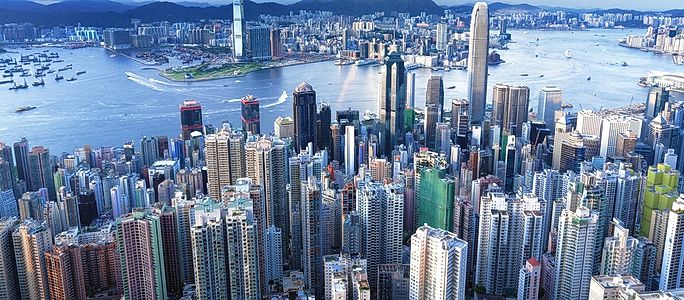 ---
Answer the questions
Where do you live?
What is your house like?
How long have you lived there?
Describe your favourite room.
---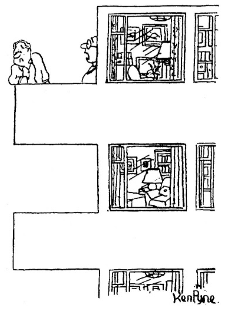 «On a clear day you can see the ground.»
Match the words and phrases to the pictures
---
---
Look at the three advertisements below. Answer these questions
1. Which is the most expensive/cheapest property?
2. Which is the biggest/smallest property?
3. Which property needs some money spent on it?
---
Three exceptional properties for sale
Three exceptional properties for sale
---
Read the adverts again. Answer the questions
What do you think are the pros and cons of each of the three properties?
Which property do you think is the most unusual?
Have you ever seen or been in any properties like these? Where? What were they like?
Which would you most like to live in? Why?
Which would you least like to live in? Why?
Read the sentences. What do you think the expressions in bold mean?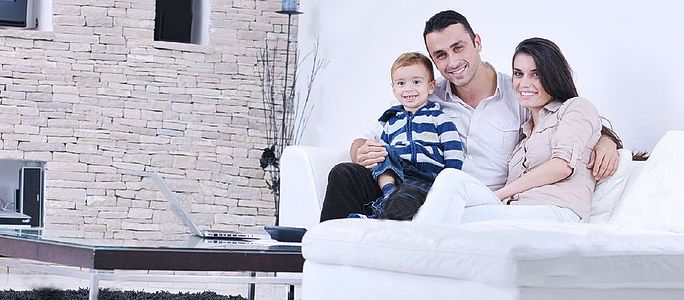 ---
I once worked at a summer camp, so I'm at home with children.
I know that home truths hurt, but I have to tell you that we aren't happy with your behaviour recently.
We're winning 5-0, and there are only five minutes of the match left. We're home and dry!
I was really disappointed by his new book. It wasn't anything to write home about.
When temperatures reach 45° C, it really brings it home to you that climate change is real.
I'm from New York, so for me a big city is home from home.
Can I ask how much you take home a month?
She homed in on the shoes she saw in the sales.
---
Match the expressions with the definitions. How much did you guess correctly?
💡Use 🔗Page Marker to complete this task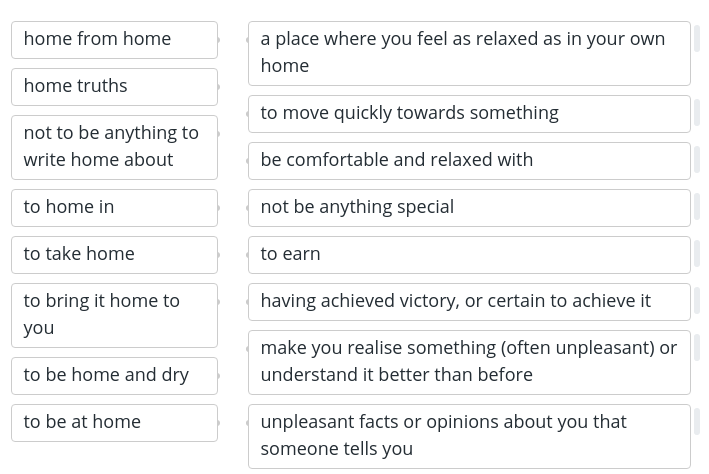 Imagine that you have an unlimited amount of money. What type of house would you build? Plan the house. Use the questions below as a plan.
Type of a house and area
Inside and outside the house
Description
🔗Style

chateau
houseboat
treehouse
ranch house
penthouse
detached house
semi-detached house
duplex building
ritzy area
inner city
the heart of the city
outskirts
the middle of nowhere

spacious rooms
outdoor lounge area
porch
covered terrace
lawns, flowerbeds, shrubs, foliage, gardens
helicopter pad
temple

quite intimate
converted into
south facing is preferable
have natural light and air supply
tranquil environment
free of the bustle of the cities

mediterranean
colonial
modern
victorian
oriental
farmhouse
---
---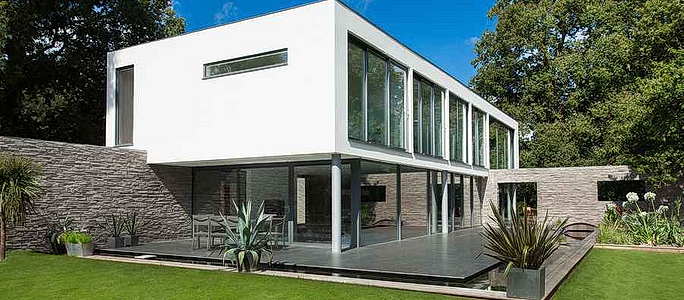 ---
Imagine your dream place to live and tell your teacher about it, using these questions to help you:
You want to build a house. Plan the ideal house to live in. Think about the points below.
Where will it be? Will it have a view? Where will it be located?
What style will it be in? Modern? Traditional?
What size will it be? How many rooms? How many floors?
How will it be decorated? Simply? Very traditionally? Plain colours? Flowery wallpaper?
Will it have a garden? What size? What style?
What about things like a swimming pool, sauna, tennis court?
Why would you like to live in it?
Read the questions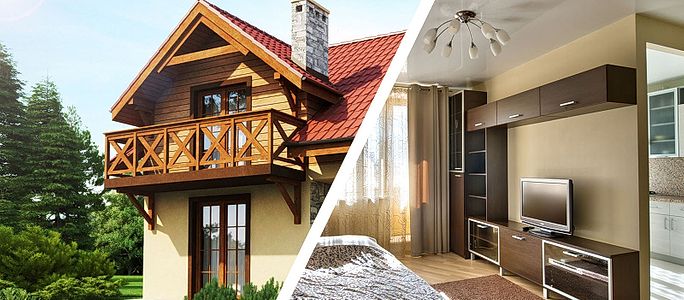 ---
What are the advantages of living in a flat?
What are the advantages of living in a house?
Where do you live (in a house or a flat)?
What is good and bad about the place you live in?
What can be done to make this place better?
Write the essay about living in a flat and in a house. Use the questions as a plan
Instructions
Read the topic and the questions carefully.
Plan what you are going to write about.
Write the text according to your plan.
Check your writing before sending it for evaluation.
Learn the rules and see the sample 🔗here.
Please use 🔗Grammarly to avoid spelling and some grammar mistakes.
Some people prefer to live in a house, while others feel that there are more advantages of living in an apartment. Are there more advantages than disadvantages of living in a house compared with living in an apartment?
Useful language
a shrub
foliage
ritzy
opulence
a wigwam
a chateau
palace
to be at home
home truths
to be home and dry
to be anything to write home about
to bring it home to you
home from home
to take home
to home in
---
The place I live
Exceptional properties
Pros and cons
House and home idioms
Mukesh Ambani's house
Planning a house
House or flat?