Adults|Spoken|Intermediate|12. Is it right to eat meat?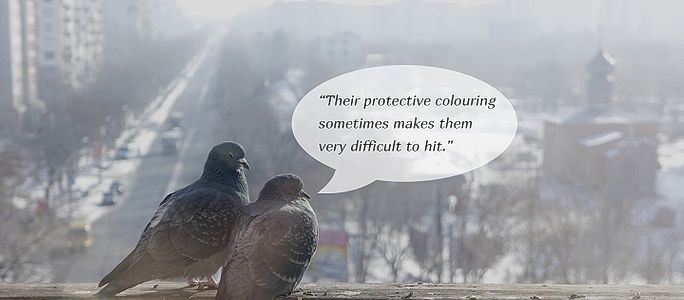 ---
Discuss the cartoon. Answer the questions
1. Do you think the pigeons hate people? Why? Why not
2. Do you agree that it is cruel to kill pigeons and eat their meat? Why? Why not?
Make a list of all the food you ate yesterday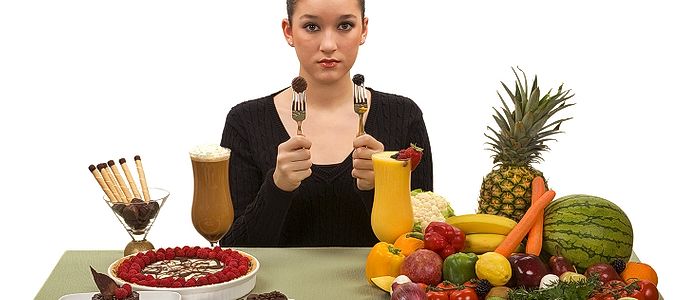 ---
---
Answer the questions
Have a good look at your list.
1. Is there anything that appears several times on your list? If so, what is it?
2. What do you understand by the saying «you are what you eat»?
3. What food in your list is healthy, what is unhealthy (from your point of view)?
Read the statements and decide if they are True or False
---
---
---
Answer the questions about yourself
Are you a vegetarian?
Do you eat meat? How often?
Do you eat fish? How often?
Do you know anyone who is vegetarian?
Why do you think some people choose to become vegetarian?
Is meat an important ingredient for some of your country's national dishes?
Would you ever consider going veggie?
Would vegetarians have any problems eating out at bars and restaurants in your country?
Read what two people think about eating meat. Answer the questions choosing the person (1, 2)
---

---
---
Is it right to eat meat?
1. Yes
Some people think that in an ideal world we would all be vegetarians. A lot of poor unfortunate animals would, therefore, be able to enjoy their lives without the prospect of needless suffering and a premature death. But the way I look at it is this. If we didn't eat meat, no one would keep sheep, cows or any other animals that provide food. We would never be able to enjoy watching young lambs and calves playing in the fields. Instead of trying to encourage people to do something which seems rather unnatural, why don't we try and make sure that food animals are treated well? Being vegetarian really isn't necessary. Let's just treat our animals with a bit of kindness and respect.
2. No
It seems a bit hypocritical to preach for the better treatment of animals — only to kill them and eat them! Of course we don't need to eat meat. I'm 82 years old and I've been a vegetarian since I was 25. What's more, I'm extremely fit and active. In fact, I ran the London Marathon last year. Some people seem to think it's natural to eat meat — but that's not so. Sure, we used to eat meat in the past, but that was before we knew how to grow enough fruit and vegetables. Anyway, even some animals are vegetarian. Look at elephants, for example, they live on grass and hay; they are enormously strong; and they live to a great age.
---
Which person:
---
Choose 5 questions you would like to answer and give detailed answers
Use the expressions to complete the following statements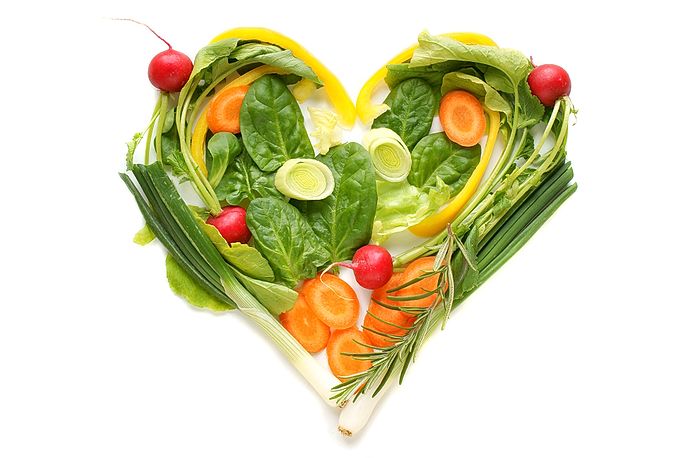 ---
---
---
Discuss the questions using the expressions below
Do animals really «face the prospect» of a premature death?

Are they ever aware that they are destined to be eaten?

What do you think would happen to sheep, cows etc. if:
a) the number of vegetarians increased dramatically?
b) everyone was vegetarian?
4. How well are food animals treated in your country?
5. Are you happy with the way they are treated?
6. Do you think it is hypocritical to treat animals well and then kill them and eat them?
7. Do you think it is really «necessary» or «natural» to eat meat?
Useful phrases
the way I look at it is this
sure, … but …
of course
anyway
what's more
for example
How concerned are you about what you eat? Answer the following questions. Then add up your score at the end.
---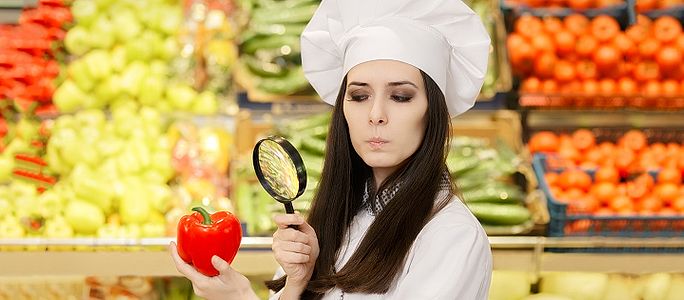 ---
Complete the questionnaire
---
Match the idioms to their definitions
💡Use 🔗Page Marker to complete the task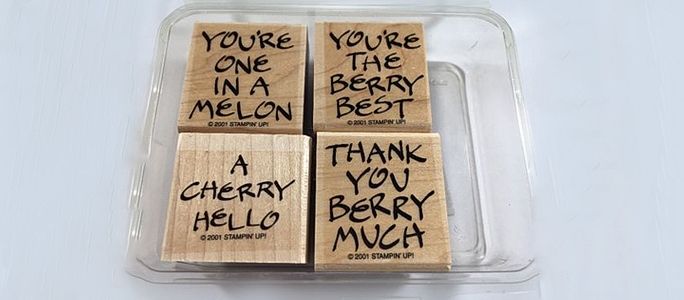 ---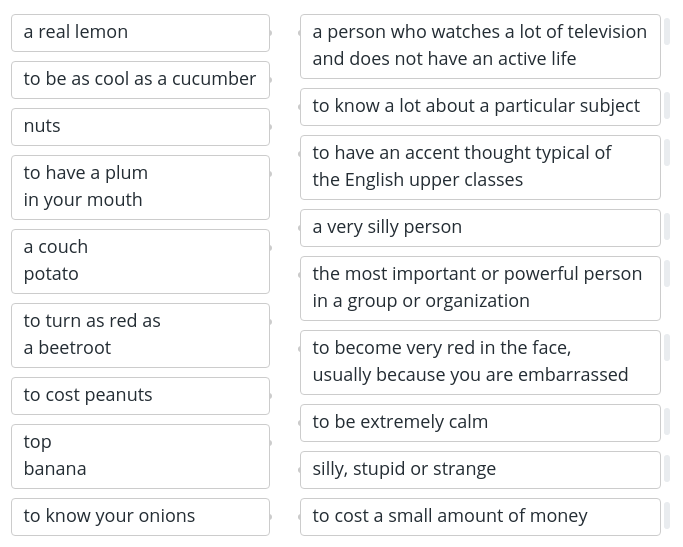 ---
Complete the sentences with the words from the box
---
Match the fruit or vegetable on the right with the information on the left.
Read the questions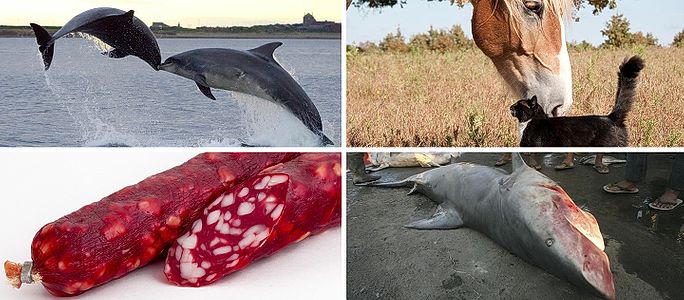 ---
Do you eat meat and fish?
Is it good for health to avoid eating meat or fish?
Does excluding meat or fish benefit the world we live in?
---
Write an essay about eating meat using the questions above as a plan. Follow the instructions below
Instructions
Read the topic and the questions attentively.
Plan what you are going to write about.
Write the text according to your plan.
Check your writing before sending it for essessment.
Learn the rules and look at the sample 🔗here.
Please use 🔗Grammarly to avoid spelling and grammar mistakes.
---
Some people choose to eat no meat or fish. They believe that this is not only better for their own health, but also benefits the world as a whole.
---
Useful language
hypocrite
premature
free-range
to know your onions
to cost peanuts
genetically modified
to face the prospect
organic food
to go veggie
to cut something out
---
Warm-up
You are what you eat
Going veggie
Is it right to eat meat?
Making a point
How concerned are you?
Fun fruity phrases
Essay