Adults|Spoken|Upper-Intermediate|15. Fashion and style
---
Look at the photos and answer the questions
Look at the people in the pictures. What can you say about their characters and lifestyles? Describe each person in five words.
What kind of music do they like?
What other interests do they have?
Where do they go and what do they do in the evenings and at the weekend?
What are their homes like?
Judging from their appearance, what do you think these people believe is important in life?
Can you judge people by the clothes they wear? If so, how? If not, why not?
Do you think that fashion and status are connected? If so, how?
---
Rate your opinion for each statement
Useful language
That's what I think.
I agree.
I'm not sure I agree with that.
Well, that's true, but…
I'm sorry but I don't agree with…
I couldn't agree more.
I agree up to a point.
I think I see what is meant, but..
I'm in two minds about it. / I'm ambivalent about…
I don't see eye to eye with…
That's true in a way, I suppose, but…
I don't feel convinced…
That's one way of looking at it. On the other hand…
---
| | | | | | | |
| --- | --- | --- | --- | --- | --- | --- |
| strongly agree | 1 | 2 | 3 | 4 | 5 | strongly disagree |
Comment on the pictures
---
Which words from the list below can you use to describe the people?
fashion victim
scruffy
smart
trendy
old-fashioned
casually dressed
unconventional
well-dressed
---
Read the quiz and choose Yes or No for each question
Who are you?
When do people wear these things?
---
flip-flops
fur coat
high heels
jumper
open-neck shirt
parka
pyjamas
sandals
shorts
slippers
tracksuit
trainers
trouser suit
vest top
---
Answer the question
In which situations would you
dress down?
dress up?
get changed?
try something on?
tuck something in?
hang something up?
get a bigger size?
get something taken in?
Listen to the audio and choose what each speaker says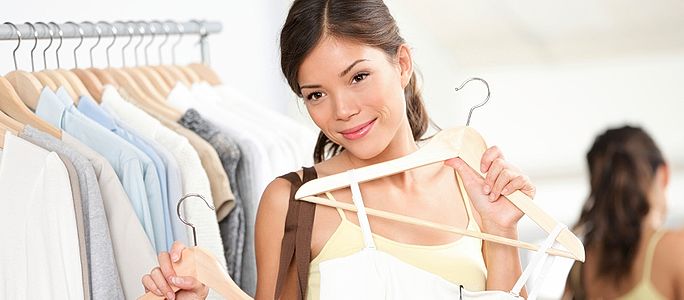 ---
Roll the dice and answer the question
Find your question by rolling your die twice.

The 1st roll determines the number on the top. The 2nd roll determines the number on the left.

Talk for two minutes on the topic.

Your teacher will ask you follow-up questions. You can ask your teacher any question on the topic if you land on «Ask Any Question».
---
---
Discuss the questions and quotes with your teacher
---
Have you ever bought second-hand clothes? Why or why not? What are the pros and cons?
What kind of clothing do you find provocative? What do you think of showing skin?
Do you have any tattoos or piercings? What do you think of them?
Would you ever wear dreadlocks? What do you think of people wearing them?
What do you think of men who wear make-up? When is a person wearing too much make-up?
«Every generation laughs at the old fashions but religiously follows the new.» Do you agree? Why?
How do you understand the quote: «Fashions fade, style is eternal»?
Read the model essay. Pay attention to the prompts given
---
Now write your essay agreeing or disagreeing with the quote. Use the prompts above and the words and phrases below
Wordlist

---
Useful language
Some people claim that…
It is often said that…
However, in my view/opinion, …
However, on balance, …
Firstly, it is clear that…
There is a strong argument for …
While it is true / Although it may be said that…
To clarify the point, there is…
From my point of view / in my view,
It seems clear to me that…
Finally, it is important to remember / must be remembered that…
Lastly, I feel that…
To sum up / In conclusion, it seems to me that…
Casually dressed
Well-cut
---
«Fashions fade, style is eternal»
Warm-up
Do you agree?
Lifestyles
In fashion
Favourite clothes
Let's talk
Spot the difference
Homework