Business|Adults|Upper-Intermediate|19. Ethics and Companies
---
Do you think that these activities conform to the basic rules of society?
1. Bribing corrupt foreign officials in order to win foreign orders.
2. Selling supposedly durable goods which you know will not last more than a few years.
3. Telling only half the truth in advertisements, or exaggerating a great deal, or keeping quiet about bad aspects of a product.
Match the titles to the photos
---
Complete the quotes below with one of the words or phrases
---
Complete the text using the words and phrases below
---
Read the text about a code of ethics
---
Ethics count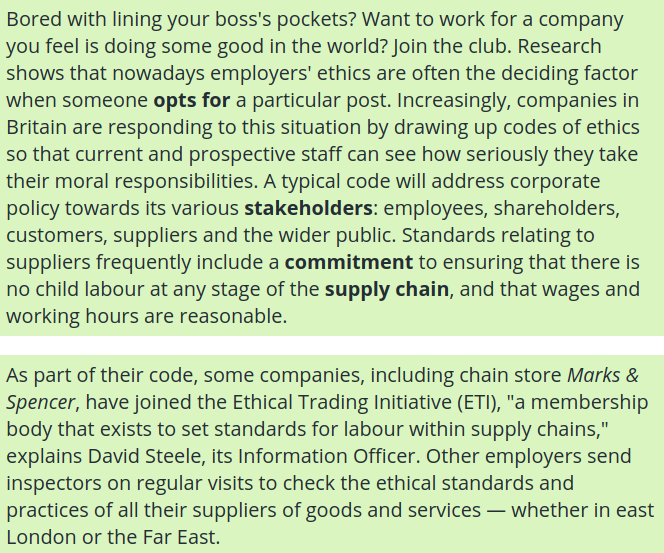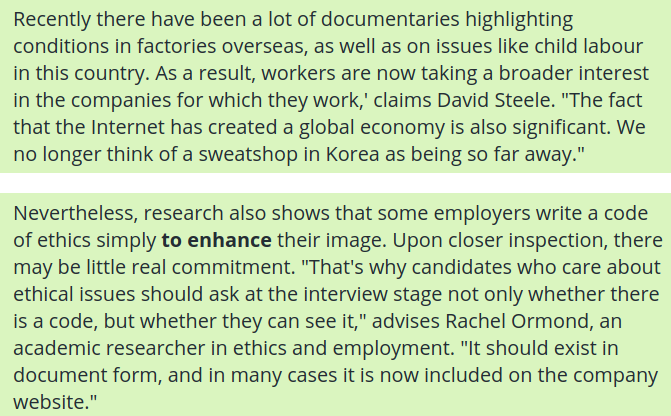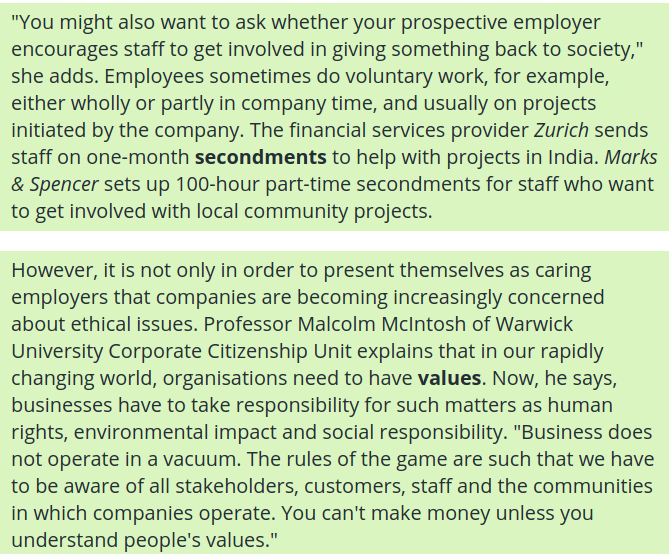 ---
---
---
Match the words to their meanings
---
Complete the sentences using the words from the previous exercise
Listen to the first part of the interview and complete the gaps
---
---
Listen again and answer the questions
---
1. Where does EarthWatch have offices?
2. How are EarthWatch's field research projects designed?
Listen to the second part of the interview and answer the questions
---
---
1. Why do businesses need to change the way they operate?
2. What opportunity do companies have with respect to the environment?
---
Listen to the final part and answer the question
---
Complete the sentences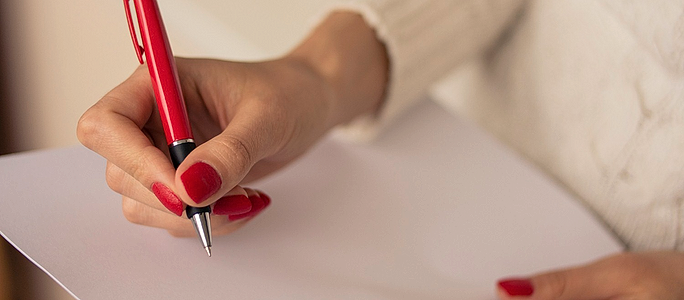 Read the text and do the exercise below
---
Fair Trade Federation: four key principles
A. Fair pay
Producers are paid fairly for their products, which means that workers are paid at least that country's minimum wage. Since the minimum wage is often not enough for basic survival, whenever feasible, workers are paid a living wage, which enables them to cover basic needs, including food, shelter, education and health care for their families. Paying fair wages does not necessarily mean that products cost the consumer more. Since Fair Trade Organisations bypass exploitative middlemen and work directly with producers, they are able to cut costs and return a greater percentage of the retail price to the producers.
В. Co-operation
Co-operatives and producer associations provide a healthy alternative to large-scale manufacturing and sweatshop conditions. Unprotected workers often earn below the minimum wage and most of the profits flow to foreign investors and local elites who have little interest in ensuring the long term health of the communities in which they work. By banding together, workers are able to access credit, reduce raw material costs and establish higher and more just prices for their products.
С. Education
Fair Trade Organisations educate consumers about the importance of purchasing fairly traded products which support living wages and healthy working conditions. By providing information about producers' history, culture and living conditions, Fair Trade Organisations enhance cross-cultural understanding and respect between consumers and communities in the developing world.
D. The environment
Fair Trade Organisations encourage producers to engage in environmentally friendly practices which manage and use local resources sustainably. Many FTО members work directly with producers in regions of high biodiversity to develop products based on sustainable use of their natural resources, giving communities an incentive to preserve their natural environments for future generations.
---
Which text part does each statement refer to?
Listen to part one of the interview and match the verbs with the expressions to which they relate
---
---
Match the verbs and expressions to their meanings in the recording
Listen to the second part of the text and put this information in the correct order
Warm-up
Company's relationships
McDonald's
Ethics count
Words, words
EarthWatch
EarthWatch's priorities
Revise the words
Fair Trade Federation
The interview. Part 1
The interview. Part 2