EM|Upper-Int|2. Business strategy: case studies

Each business sector has its leaders. To become a leader, a company should have a winning business strategy. Let's see which companies you associate with some business sectors. Do you know anything about their business strategies?
---
Let's find out how the choice of a business strategy can lead the company to success or failure. You're going to see this while reading the stories of several famous companies.

In this lesson, you're going to deal with the case studies of Apple, Airbnb and Nokia. It's very likely you're familiar with the notion of a case study. But anyway, first of all, let's make clear what a case study is.
What is a case study? Give your answer, then listen to the audio and choose the correct options
---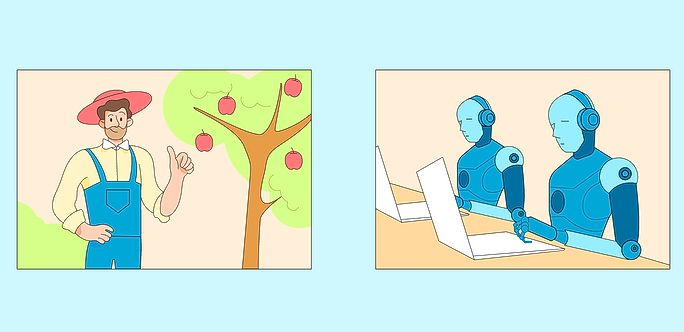 Apple is a company that made a revolution in technology. Let's see how the right business strategy helped Apple to become a market leader.
Read the case study of Apple and mark the statements as True, False or Not Stated
When starting a business, lots of companies would first launch an MVP, a minimal viable product. It is a kind of sample of your future product with a lighter functionality which can be sold at a pretty low starting price. Its main purpose is to attract customers' attention to your business and help you develop the next product. Some companies even distribute MVPs free of charge in hope of getting loyal customers.
Starting with MVPs is common practice. Let's take smartphones, for instance. When all the craze about smartphones started, lots of companies tried to produce different models that were affordable to a larger audience. Now think about Apple. Their very first iPhones already stood out among all the other smartphones the market could offer. Although Apple could easily have created a simpler smartphone much faster, when other companies were doing it, the company waited until the technology was advanced enough to make a product of higher quality and sell it to wealthier people.
Apple showed that making the first move is not always an advantage for a business. There is quite a common misconception that an original idea is what matters most for a startup. In fact, the most successful companies are not always the innovative ones. When a company introduces a new product that hasn't existed before, the market is not clearly defined. Potential customers don't know yet that such a product exists. So, the company has to make a lot of effort to gain the market, whereas its followers will learn from its mistakes.
So, every company should think about what strategy is better for their business: being a «first mover» or a «smart follower». Apple chose the latter and became a leader.
---

Many travelers have already tried using Airbnb. It seems to be a good way to find accommodation at a reasonable price and meet locals. Let's see how Airbnb founders managed to successfully compete with the hotels.
Read the text and choose the option you consider right
It won't be an exaggeration to say that Airbnb changed the way we travel. This company is now one of the fastest-growing tech companies, but its path to success wasn't smooth. The company was founded when three flatmates came up with the idea of renting out the air mattress in their living room and turning their flat into a bed and breakfast. They soon decided this idea could become a startup. They created a website where other people could list their own mattresses for rent. They had a lot of listings on the site, and the site traffic was pretty good. But very few people were actually making bookings. So, things didn't go well. Airbnb founders made an assumption about the reasons and started to act. What do you think they did?
---
Listen to the audio, check your guess and choose the correct option
---
---
Read the end of the case study and complete the definition with the given words

You've seen two cases of successful business strategies. But there are a lot of different reasons that contribute to the success of a business. Let's listen to what an expert says.
Listen to the audio and put the tips for building a successful business strategy in the order they are mentioned
---

In business, failures are inevitable. Companies make mistakes and their business strategies fail. Let's study one of such cases.
Read the case study of Nokia and choose the correct statements
A business strategy involves change, which is difficult and requires a lot of effort. But the inability or unwillingness to change may be a huge mistake even for a successful company.
The Finnish company Nokia is famous for creating the first cellular network in the world. It used to be the global leader in mobile phones in the late 1990s and the early 2000s. But Nokia's case is not only about success. It's also about failure.
When the Internet arrived, mobile companies quickly realised that the future of communication was data, not voice. But Nokia resisted the change. The company was afraid of losing their customers if it changed too much. So, instead of focusing on software, Nokia continued to focus on hardware. And that was a big mistake. The unwillingness to make a significant change in user experience actually led to developing an operating system with bad user experience. It wasn't a fit on the market. In 2007, Apple launched the iPhone, which was a revolution back then. A year later, Nokia finally decided to enter the smartphone competition as well. The company relied too much on the power of its brand. They believed they could still succeed, but it was too late. Their products could compete neither with iOs nor with Android. The fear to innovate played a bad joke on Nokia, but it's also a good lesson to other businesses: without an innovation strategy, a company can't stay successful.
---

Now you've seen successful and unsuccessful cases of business strategies. It's your turn to make a presentation for the novices in business and give them advice. So, make a plan and get ready!
Read the task
1. Write at least 10 points of what companies should and shouldn't do when developing their business strategy.
2. If possible, support your points with the examples of well-known businesses.
3. Use some of the words and phrases from the wordlist.
---
Write your advice (at least 10 points)

This is the final step of today's lesson. We hope you found it interesting and productive. Let's talk about your results!
Choose the correct statements
---
Market leaders
What is a case study?
Apple's business strategy
Airbnb's business strategy
Building a successful business strategy
Nokia case
Developing a business strategy
Assess your progress