GE|Adults|Advanced|12. Talk to me London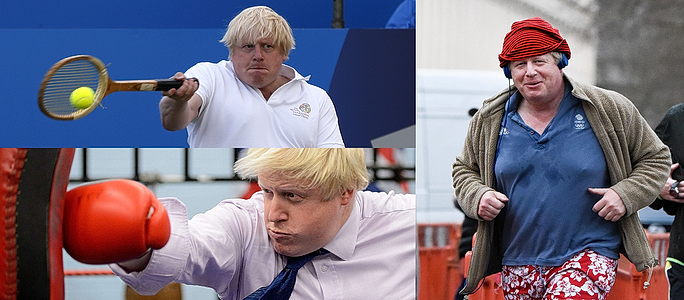 Choose the point
---
---
Useful Language
He must be…
He might be…
He is definitely…
He must have…
He might have…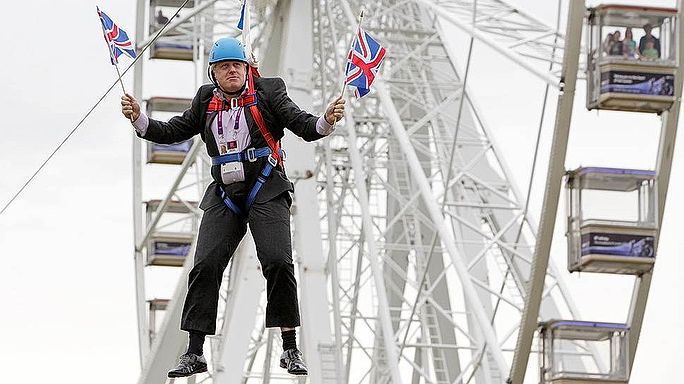 Look at this photo of Boris Johnson and answer the questions below. Then read the passage to find out the correct answers
1. When and where could the photo have been taken?
2. Why do you think Boris might have been on a zip wire?
3. What do you think might have just happened?
4. How do you think he must have been feeling while he was hanging there?
Boris Johnson was featuring as a special guest in Victoria Park, east London, during the 2012 Olympics, to ride the 1,050ft (320m) zip wire, wearing a hard hat and waving two Union Jack flags as he attempted to sail down. Instead, he came to a halt about 65ft (20m) before the end of the wire, and was left dangling inelegantly in front of a watching crowd. The Mayor spent around five minutes hanging comically from the line, as spectators took video footage and photographs of his misfortune. When one asked how he was feeling, he replied «Very, very well, thank you», before shouting: «Get me a rope, get me a ladder».
Read the rules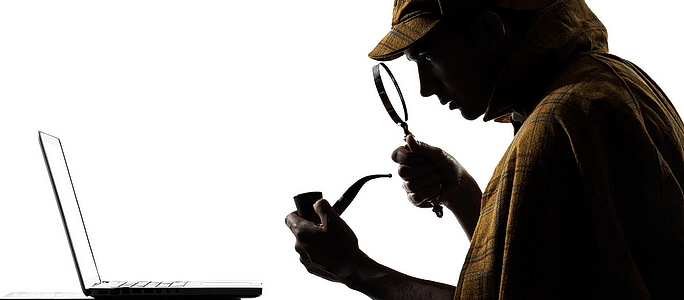 Speculation and Deduction
Advanced
Do you often jump to conclusions and make deductions? This topic is right up your alley then
Examples
Kate doesn't have a car. She must have rented it.
You couldn't have seen a coconut tree. Coconuts don't grow here.
Do you think he may have realised that the news was fake?
Amanda might be doing the washing. We've just had dinner.
Why is Tom late? They should have told him about rescheduling the appointment.
Forms
Deductions about the present
Deductions about the past
must + V1

must + be + Ving

could + V1

could + be + Ving

may/might + V1

may/might + be + Ving

can't + V1

must + have + V3

may/might + have + V3

can't/couldn't + have + V3
---
Usage
Use modal verbs to speculate and make deductions
must + V1 / must have + V3 / must be + Ving (90% — 100% certain)
you are sure that something is true about the present or the past
She must be working really hard these days. She looks absolutely exhausted. (a conclusion about a process)

Kate doesn't have a car. She must have rented it. (a conclusion about a completed action)

can't + V1 or can't/couldn't have + V3
you believe that something didn't happen or when you are surprised (the opposite of must)
You can't be serious! (disbelief about the present)

Hannah couldn't have said those words. It's totally out of character for her. (disbelief about a past action)

may/might/could + V1 and may/might be + Ving and may/might/could have + V3 (50% certain)
to talk about possibilities (may = might; could is less common)
There may/might not be enough space for all the guests. (a present possibility)

He may/might be talking to Sam. He had some news for him. (a present possibility)

NB:

may not / might not in negatives, but NOT couldn't.

should/ought to + V1; should/ought to have + V3
to talk about expected actions
As I know, each box should/ought to be half full. (= It's expected)

Where is Tom? They should have told him about the rescheduling the appointment. (= We expect him to know about the change.)
---
❖ Speculation can also be expressed by using the following adjectives and adverbs:
🔹to be bound/sure to
The collapse was bound to happen. = It was expected.
🔹to be likely/unlikely to
Your behaviour is likely to disappoint your parents. = It will probably happen.
🔹It's likely/unlikely that… It is unlikely that she will have a lasting relationship with Dan. = Probably, it will not happen.
🔹definitely/probably
We should definitely be more concerned about the feedback. = I am sure of it.
---
Match the modal verbs to the point on the scale
Correct the mistakes and rewrite the sentences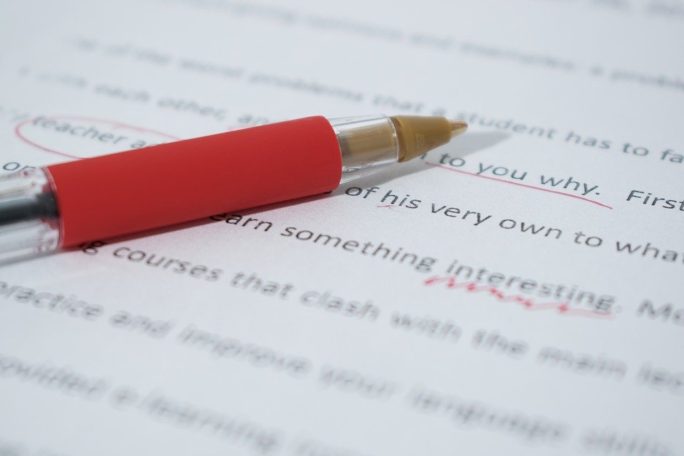 Example:

Jim didn't leave work until 6.00, so he won't likely be here before 7.00.

Jim didn't leave work until 6.00, so he isn't likely to be here before 7.00.
Rewrite the sentences using the word in the input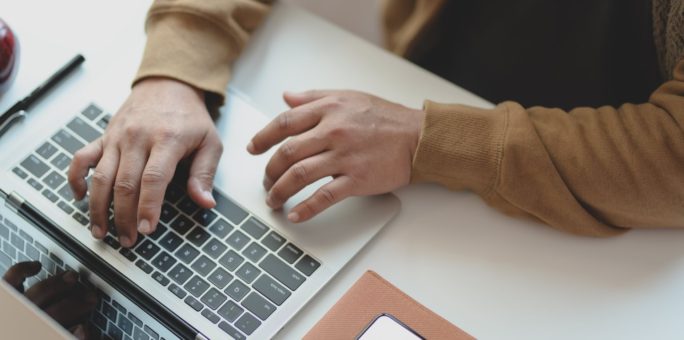 Look at these photos taken in London and make speculations and deductions about them. Then read what's really happened
---
Read the texts to find out what's really happened
The man in the Spider-Man costume was taking part in a stunt to promote Fathers 4 Justice. This organization campaigns for fathers' rights (for example, for access to children after a divorce), mainly using stunts and protests, which are often conducted in costume.
The blue car was a marketing stunt to launch the Chevrolet Orlando. It was made of 1.5 tonnes of Play-Doh, took eight modellers two weeks to make, and is the world's biggest Play-Doh model.
The polar bear on the London Underground was a publicity stunt to promote a new TV series called Fortitude, a thriller set in a Norwegian town on the Arctic Circle. The bear took eight weeks to build, and has two people inside, who practised for five days to make their movements seem exactly like a real polar bear's.
Answer the question. Then read to find out the correct answer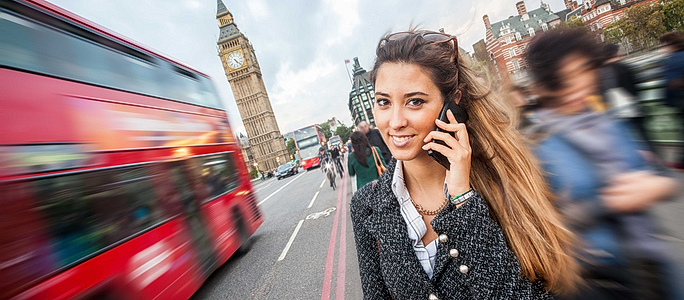 What do you think the «Talk to me London» organisation aims to achieve?
a) They want to help people to meet each other
b) They want to help people to create families
c) They want to increase the communication level in the city
Talk to me London is all about finding ways for people to talk to each other. We know that talking brings about many benefits, from a greater sense of well-being to friendlier communities, and increased opportunities. Think about it — just one conversation can inspire us, reassure us, or brighten up our day. Our vision is to build a friendlier city through encouraging small conversations between strangers.
---
Listen to an interview with Polly Akhurst, one of the founders of «Talk to me London» and answer the questions
---
Listen to four true stories from the Talk to Me London website and tick the names according to the correct category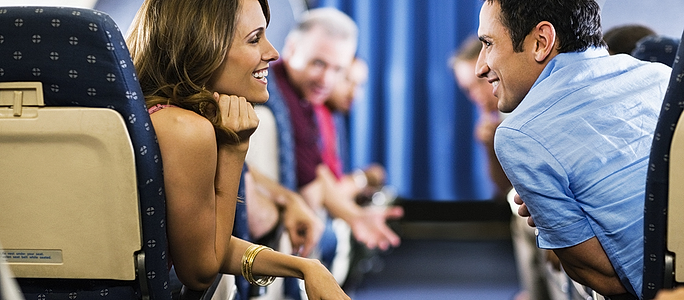 ---
---
Now listen again and match the four people to the information about the conversations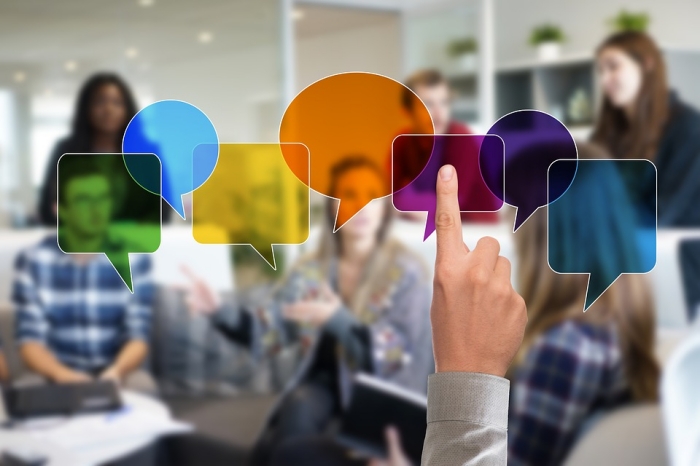 Choose 1 question you would like to discuss
1) Do people in your town or city tend to chat to complete strangers, or would it be considered odd?
2) Which cities or regions in your country have a reputation for being friendly or unfriendly?
3) Have you ever been to a city or country that struck you as particularly friendly or unfriendly?
4) 'You keep to your private bubble and I'll keep to mine.' Do you think this is a good approach to city life?
---
Useful language
🔹I'd say that…
🔹In my view,…
🔹If you ask me,…
🔹I feel that…
🔹Personally, I think that…
🔹My feeling is that…
🔹Personally speaking,…
🔹As far as I'm concerned,…
🔹In my opinion,…
Complete the mini-dialogues using modals and the correct form of the verbs in the inputs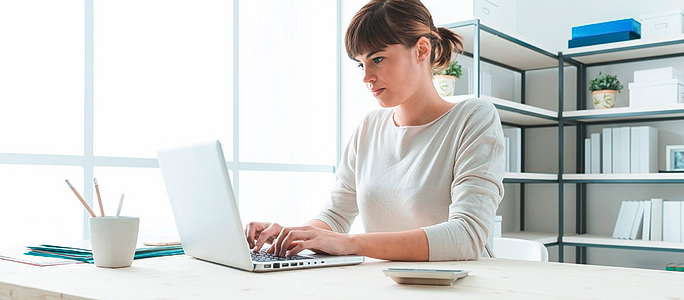 Complete the second sentence using the word in the input so that it means the same as the first

Read the text and answer the two questions under the picture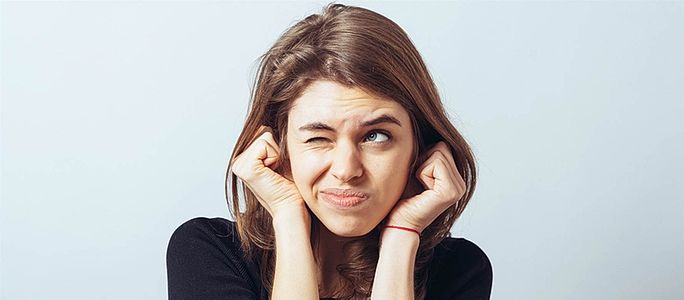 ---
Silence is golden
You hear it everywhere: in pubs, restaurants and hotels, on the plane, on the train, or on the bus. It comes at you unexpectedly down the phone, and it's even on television ruining perfectly decent programmes. This unsolicited noise is, of course, piped music, an incessant jingle that is almost impossible to escape.
Contrary to popular belief, it appears that more people dislike this kind of music than actually appreciate it. In a poll carried out by a British newspaper, piped music came third in the list of things people most detested about modern life. (The first two most hated things were other forms of noise.) What is more, a recent survey into shopping habits shows that at least 50 per cent of customers would walk out of a store that had piped music. With figures like these, there can be no doubt about the widespread aversion to the noise.
It is people with some kind of hearing impairment who suffer most from the din. This group includes the elderly, who often develop an age-related hearing problem called presbycusis. The condition prevents them distinguishing the individual words of a conversation above the noise of any background music. As time goes by, they find it more and more difficult to interact. In fact, a 2013 survey commissioned by a British bank showed that around 61 per cent of older people consider piped music in shops and banks their biggest bugbear. The reason most of them gave was that it makes them feel alienated.
However, piped music may also be responsible for far more serious health problems. It has long been recognized that unwanted noise produces stress. The listener experiences a rise in blood pressure and a depression of the immune system.
A survey of 215 blood donors at Nottingham University Medical School found that playing piped music made donors more nervous before giving blood. They also felt more depressed afterwards. These results suggest that a hospital might not be the right place to play this kind of sound.
Yet a care institution in London has recently announced that it is going to do just that. The hospital plans to introduce piped music into its Accident and Emergency Department to 'calm distressed patients'. The music will be provided by legendary musician Brian Eno, who has been supplying 'ambient music' to airports for nearly four decades. The hospital's objective is to make A & E more patient-friendly, but it is likely to have quite the opposite effect.
Fortunately, help is at hand in the form of Pipedown, a campaign for freedom from piped music. The movement is pushing for legislation to ban its use in public places, especially in hospitals and doctors' surgeries where patients are in no position to argue or go somewhere else. If the campaign is successful, the London hospital will have to drop its plans. But for many, this will not be a bad thing.
---
Read the article again and mark the sentences True or False
Read the instructions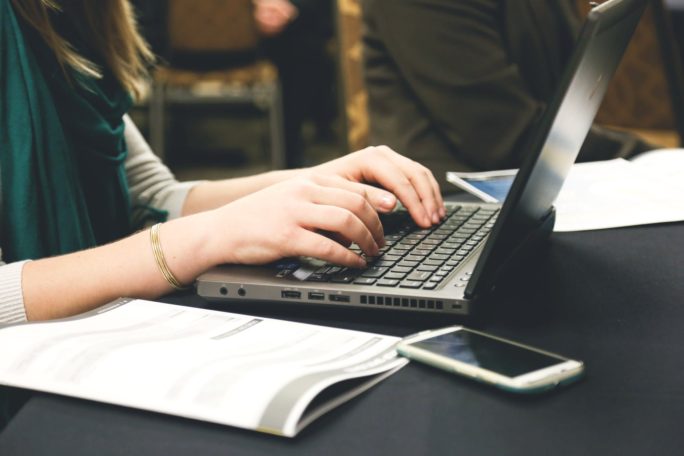 А famous magazine has announced a contest on the best story about an interesting conversation. You are to write a story of about 100 words describing an interesting conversation you have had. Use the questions below as a plan of your story and the words and phrases from the wordlist.
Who did you talk to?
Where did it happen?
What was unusual/interesting about this meeting?
What was an outcome of the conversation?
---
Write a short story answering the questions. Follow the instructions above and use words from the list
Tell us your story!
Had a good conversation lately? Write a story describing it
Instructions
Read the topic carefully.
Plan what you are going to write about.
Write the text according to your plan.
Check your writing before sending it for evaluation.
Learn the rules and see the sample 🔗here.
Please use 🔗Grammarly

to avoid spelling and some grammar mistakes.
Useful language
I'd say that…
In my view,…
If you ask me,…
I feel that…
Personally, I think that…
My feeling is that…
Personally speaking,…
As far as I'm concerned,…
In my opinion,…
---
«An interesting conversation»
Warm-up
Deducing
Speculation and deduction
Practise grammar 1
Practise grammar 2
Describe the photos
Talk to me!
Talk to me, stranger!
Discuss the question
Complete the mini-dialogues
Complete the second sentence
Silence is gold
A good conversation