GE|Adults|Upper-Int|13. Creative thinking

---
«Eureka!»
Answer the questions
Who said it?
What was he doing at the time?
What had he just discovered?
---
Listen and read the article about creative thinking. Do the experiment
---
Eureka! Thinking outside the bath…
Master magician Harry Houdini once amazed the world by making an elephant vanish.
You are now going to do the same thing.
Look at the picture of Houdini's head and an elephant. Now close your left eye and stand before your screen at arm's length. Now slowly approach your face towards the screen, but make sure that you keep looking at Houdini's head with your right eye. At some point usually when the screen is about 20 cm from your face, the elephant will suddenly disappear. This simple illusion works because each of our eyes has a «blind spot», a small area inside the eye which cannot see.
According to Dr Richard Wiseman, professor of psychology at the University of Hertfordshire, most people have psychological «blind spots» which cause us to miss seeing the obvious, simple solution to a problem. The few people who do not have these psychological blind spots are the people like the Greek mathematician Archimedes, who was having a bath when he suddenly realized that the volume of an object could be calculated by the amount of water it displaced and cried «Eureka» («I have found it»), or the English scientist Isaac Newton, who developed the notion of gravity after seeing an apple fall. Dr Wiseman has studied people who frequently experience this kind of «eureka moment» and thinks that the difference between them and ordinary people is that they think in a different way, what he calls «creative thinking».
---
Watch the video. How many times do the players in white pass the ball?
---
You are going to listen to a radio programme about creative thinking. Listen to the first part and answer the questions
---
---
Why don't most people think creatively?
What was the gorilla experiment?
What happened when Dr Wiseman tried the experiment on a group of top scientists?
Before you listen to the rest of the programme, look at the photos
---
---
Now listen and answer the questions
---
What does the gorilla experiment demonstrate?
Why are the three things in the photo examples of creative thinking?
What did Dr Wiseman recommend to the journalists? Why?
What was Dr Wiseman's creative idea?

---
Prepare a piece of paper to draw on.Do the test below to find out if you are a creative thinker.
Are you a creative thinker?
1. Choose true or false.
2. Think of a number between 1 and 50 that contains two odd digits but not the same digits.
3. In three minutes, add lines to these boxes to make each one into a different object. Do it on a piece of paper.
---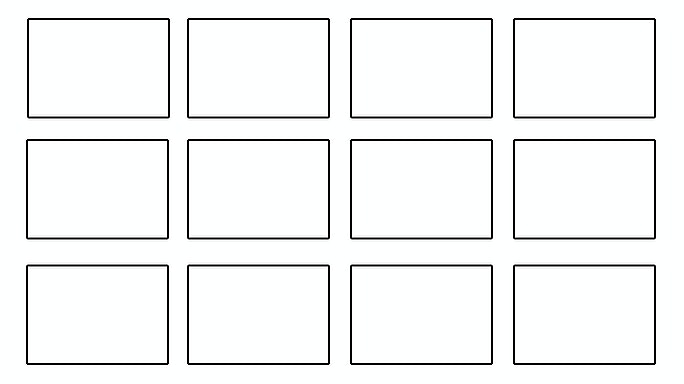 ---
4. Look at this clock and fill in the missing numbers.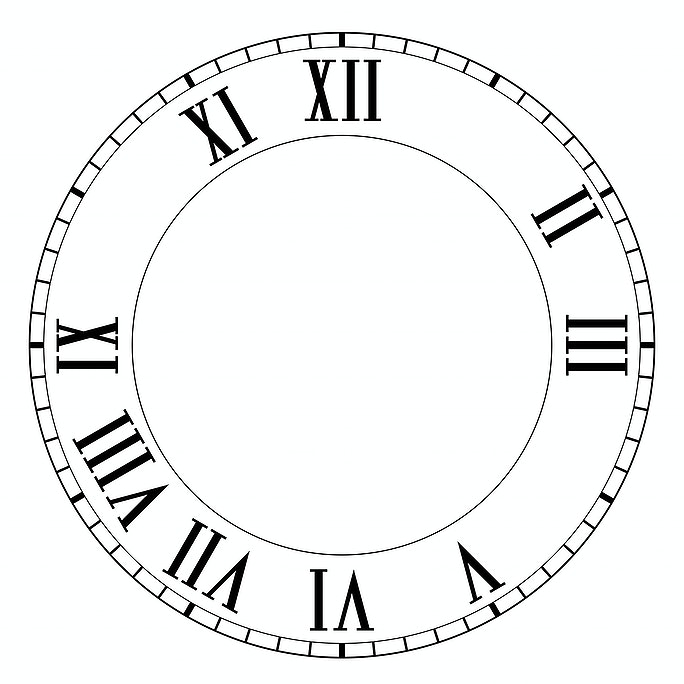 Read these scientific facts. Use your instinct to choose the right word or phrase

---
---
Read the rules
Quantifiers; All or Every, etc.
Upper-Intermediate
There were both the fork and the knife, but no spoons on the table. Every Christmas dinner, they forgot about the spoons.

---
Examples
Every year, Santa Claus brings loads of presents to each child in the world. All children wait for the evening of December 24th, and none of them wants to sleep that night. Very few children actually manage to stay awake. Most parents spend a great deal of time hiding presents from their kids. Both my parents kept the secret of the presents from me for years because neither of them wanted to ruin the magic of Christmas.
Forms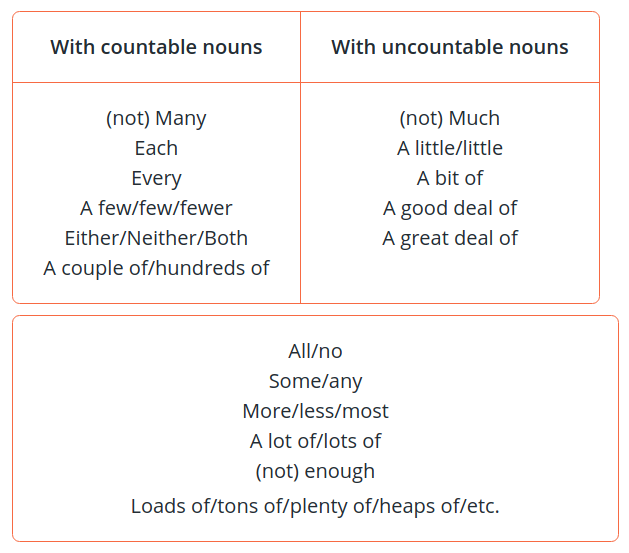 ---
Usage
➢ We use Quantifiers to give information about non-specific amounts of something and to say how much or how many.
We have lots of work to do.
There are very few people who know Andy's secret.
I spent a great deal of time researching this issue.
➢ We generally use some in positive statements and any in negative ones and in questions.
I need some eggs for the cake, but I don't need any milk.
We never had any problems with our computer.
Do you have any children?
! We generally use some for offers and requests.
Would you like some sugar in your coffee?
Could I ask for some information, please?
➢ If we're talking about two people or things, we use both in positive statements, and either or neither (=not either) in negative ones. We use plural verbs with both, but a singular verb with either or neither.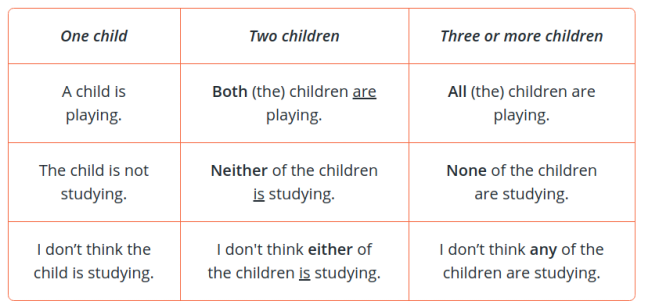 ---
! If we name both people or things after neither/either, we separate them with nor/or.
Neither Alice nor John wanted to see that film. = Neither of them wanted to see that film.
Either you or me will have to take care of the house. = Either of us will have to take care of the house.
I don't think either Bill or Sam is good for the Manager position. = I don't think either of them is good for the Manager position.
➢ We use all with plural nouns. We can also use every and each with singular nouns to mean all (= each member of the group separately).
All streets are decorated for Christmas. = Every street is decorated for Christmas. = Each street is decorated for Christmas.
! We do not use determiners with every and each.
Every child grows up.
We checked for mail each day that week.
➢ We use no or none as the opposite of all.
I had no interest in history when I was at school.
None of my colleagues smoke.
➢ We can use quantifiers in the place of determiners.
Most people graduate university between the ages of 23 and 26.
Few sea turtles survive the trip to the sea.
➢ When we talk about members of a group in general, we put a noun directly after a quantifier. If we are talking about members of a specific group, we use of the as well.
Many people like chocolate.
Many of the people in my company like chocolate.
! With both and all, we don't have to use of:
Unfortunately, he broke both (of) the vases we gave him.
All (of) the animals in this zoo were raised in captivity.
Common mistakes
❌ I don't like both of these options.

❌ We visit our grandma the every week.

✔️ I don't like either of these options.

✔️ We visit our grandma every week.

---
Complete the second sentence so that it means the same as the first
Example: I like meat. I like fish too.
I like (both) both meat and fish.
---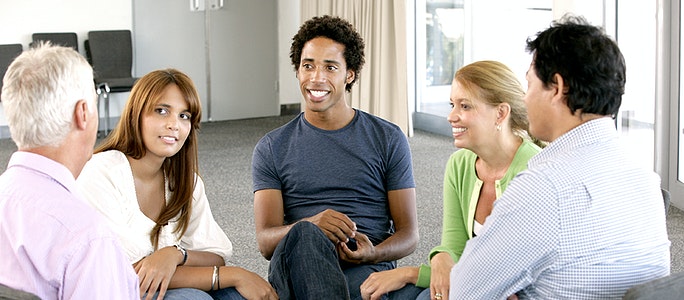 ---
Complete the sentences with the correct words
Example:(Both/either/neither/nor) my brother and my sister have children.
---
Read the article. What two functions does Rob Law's invention have? Look up the highlighted words in your dictionary

---
Dragons' Den reject celebrates huge sales of «worthless» invention
Less than a year ago the judges on the reality programme Dragons' Den rejected his invention. Now inventor Rob Law is having the last laugh after a product considered «worthless» on the BBC television programme for young entrepreneurs has proved a huge commercial hit.
Mr Law, 29, from Bath, spent 11 years — and £17,000 of his own money — refining his design for a wheelie suitcase which doubles up as a child's ride-on toy. The plastic Trunki case is designed to allow youngsters aged three to six to take their own bag on holiday — and to sit on it when they are tired. But when Mr Law appeared on Dragons' Den last September, he was given a hard time by the famously unfriendly panel of investors.
Businessman Theo Paphitis ridiculed the product after managing to pull off one of the straps. His colleague Deborah Meadon, head of a holiday firm, declared bluntly that there was no market for the case. And the notoriously brusque tele-communications tycoon Peter Jones declared: «I meet people like you all the time — you think you have something. I tell you, you don't». The panel declined Mr Law's offer to give up 10 per cent of his new company in return for a £100,000 investment — an offer which valued the firm at £1 million.
However, it now appears that the experts were wrong. After a succession of positive press reviews, Mr Law has sold 85,000 of his Trunki suitcases. It is marketed in 22 countries via a network of distributors. Retailing at £25, it has proved a hit at several high street stores. Mr Law said: «When I went on to the programme I was full of confidence that I was going to get the investment I needed. But they were rude and obnoxious and just focused on the strap, which was actually something that was quite easily fixed. I was terrified that by appearing on the programme I may have ruined my company before it had even started. But afterwards we had loads of hits on the website from people who said they thought it was a brilliant idea. Now I am absolutely delighted to have proved the Dragons wrong. It just goes to show you should never give up».
Mr Law also revealed that during filming he managed to sell two of the suitcases to Australian panellist Richard Farleigh, who wanted to invest £100,000 in return for half of the company. But Mr Law rejected the deal. He declined to say exactly how much the company — which is 100 per cent owned by him — is now worth, but said that it was more than £1 million!
---
Read the text again and choose the correct option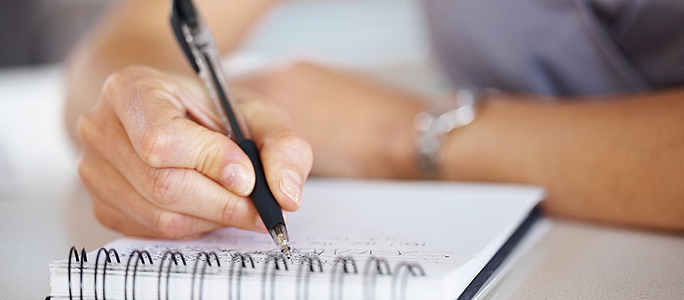 ---
Use the words and phrases from the text (in the previous step) to complete the definitions. There are 5 extra phrases you don't need to use.
Warm-up
Eureka!
Count the passes
Innovative ideas
Are you a creative thinker?
Quantifiers
Exercises 1
Exercises 2
Quiz
Quantifiers
Both, either, neither nor
Article
Words, words
More words to learn
Expand your vocabulary