GE|Adults|Upper-Int|6. Being a journalist

---
Answer the questions
How has technology affected the way that we receive news?
Do you think that the media is objective? Why or why not?
Do you think that the media covers too much bad news and not enough good news? What was the last «good news» story you heard?
Are there certain things journalists shouldn't report on? Why?

---
Think over this quote and choose a topic to discuss
«Celebrities have to accept that the media publishes stories about their private lives. That is the price they pay for being rich and famous.»
---
Click on the hotspots to open the cards
Read the information
---
We can use «as» in many different ways:

1. to give a reason:
As it was raining, we didn't go out. (as = because)

2. to compare people or things:
She's as tall as me.

3. to describe somebody's job or function of something:
She works as a nurse. We had to use a handkerchief as a bandage.

4. to say that something happened while/when something else was happening:
As they were leaving the postman arrived. (as = when)
---
Decide how 'as' is used in each sentence

---
Choose and write the correct form
Ms Beal (defence lawyer) | Judge | Mr Luskin (prosecution lawyer) | Mr Dykes (the accused)

---
Match the halves to make the sentences. Look up the highlighted words and phrases in your dictionary
Watch or listen to a short film on the Speed of News and mark the statements as True or False
---
Read the instructions
---
«The public increasingly depend on citizen journalists to witness and record events objectively, and to hold the mainstream media to account for honesty and authenticity. Citizen journalism is taking over traditional newsrooms.»
Watch the videos 🔗1 and 🔗2 for more information about citizen journalism. Then think over the questions:
What is the difference between professional and citizen journalism?
Is citizen journalism a phenomenon of recent years, or did some kind of practice, which can be described as citizen journalism, exist before we started using the term?
How would you describe a citizen journalist and what is his or her motivation for the task?
In your opinion, has citizen journalism somehow changed the norms and practices of professional journalism?
Can bloggers replace professional journalists and who do you consider more reliable source of information?
---
Write your opinion on the role of citizen journalism in the modern society. Answer the questions and use words from the list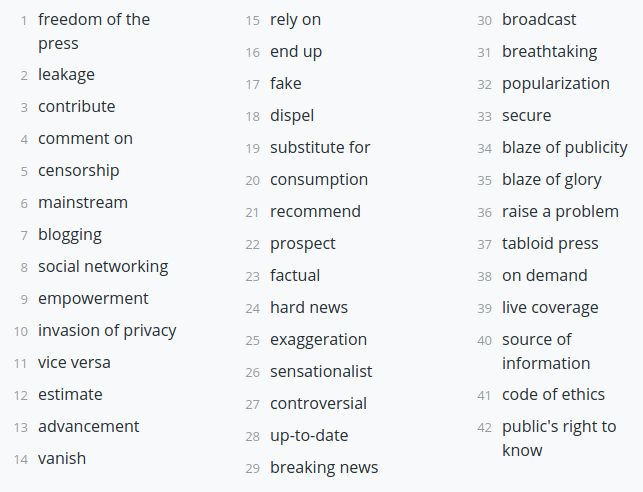 ---
Useful language
channels of communication
broadcasting time
digital revolution
media content
broadband Internet access
tweeting
participatory media
media hype
sense of mission
nagging doubt
to plant sth. firmly in sb.'s mind
attention-grabbing
to play on smb's emotions
to cover a subject
---
Instructions
Read the topic and the questions carefully.
Plan what you are going to write about.
Write the text according to your plan.
Check your writing before sending it for evaluation.
Learn the rules and see the sample here.
Please use Grammarly to avoid spelling and some grammar mistakes.
---
Warm-up
Good and bad sides
A restaurant critic
Celebrities
Mini grammar as
Phrasal verbs
A trial
Reporting the dialogue
Newspaper sections
As
Phrasal verbs
News programme
More details
Words
Speed of news
Citizen journalism