Grammar Video|Pre-Int|18. Present Continuous
---
Present Continuous
Pre-Intermediate
Did you know that Present Continuous has more than one meaning?

Examples
I want to buy a new motorcycle. Now I am saving up for it. This week I am working overtime. I am writing a report at the moment. I am not eating out these days, I am trying to spend less.
Timeline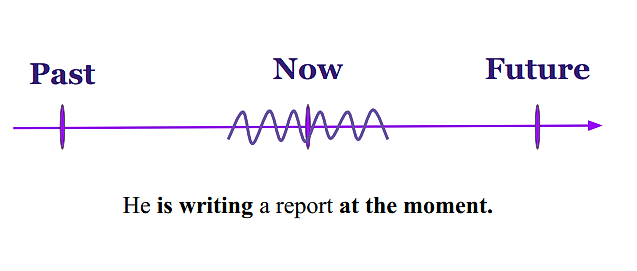 Forms
be (present) + Ving
+
am

is

are

+Ving
—
am not

is not (isn't)

are not (aren't)

+Ving
?
Are

Is

Am

you

he/she/it        +Ving?

I
---
*Remember
🔹Some letters are doubled, e.g. getting, running
🔹Mind the spelling, e.g. lie – lying, ski – skiing
Usage
🔹To talk about actions happening now
I am writing a report at the moment.
Sam is talking to the manager now.
🔹To describe temporary situations (these days, this week, today)
These days I am working overtime.
My son is not playing football this week.
🔹Use Present Simple with non-action verbs
like

want

need

prefer

believe

remember

know

understand
---
I don't need a motorcycle.
Do you want to go shopping now?
Attachment
---
Read the article and put the verbs in Present Continuous
Guess the job!