Medicine|Int|1. Presenting complaints
Check up
1. Match each photograph with what the person is saying.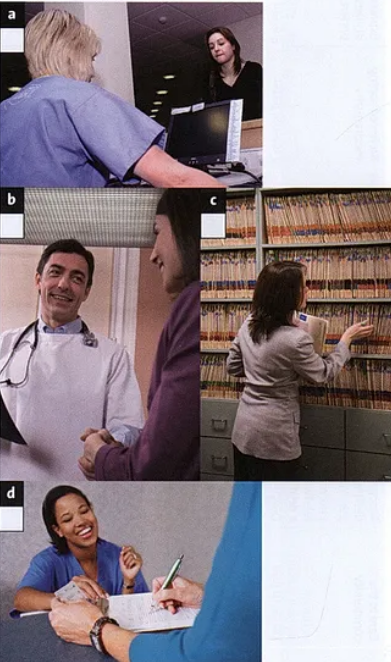 ---
---
2.

How important are accurate patient records? Give reasons.
3.

In your country, are patient records kept on computer or on paper? Which of these two systems do you think is better? Why?
Listening 1
Personal details
1.

Look at the chart containing personal details of Mr Karlson. Then listen and correct any details 1-8 that may be wrong. Tick items that are correct.

Use 🔗Page Marker to complete this task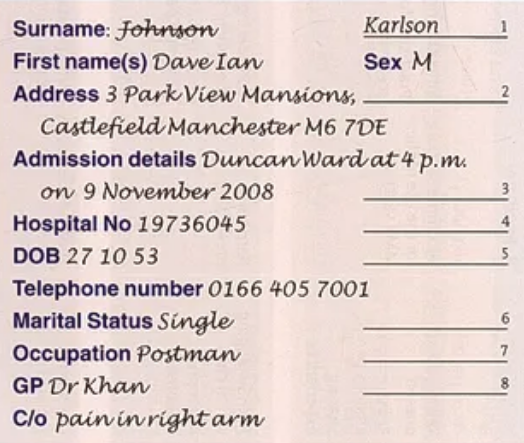 ---
2.

Listen again and check your answers.
3.

Decide what questions the doctor asks for each piece of information on the form.
Language spot
Asking short and gentle questions
Ask gentle questions to put the patient at ease. Use Can you tell me what / who + noun + verb?

What's your surname / family name?

Can you tell me what your surname / family name is?

Remove words to make questions shorter.

What's your first name? Your first name?

Have you any other names? / (And) Any other names?
1.

Make gentle questions or short questions for the questions you made in Listening 1, 3.
2.

When taking the history of the presenting complaint (HPC), you often ask about pain. Use these words to complete the questions.
makes it worse / better?

on?

spread anywhere else?

had the pain?

the pain for me?

constant?

did it start?

you up at night?

the pain is like?

get the pain?

had the pain before?
---
3.

Match these words to a question in 2.
---
4.

Listen to five people stating where they are having a problem. Which part of the body are they referring to?
---
5.

Think of non-technical terms for body parts a-k.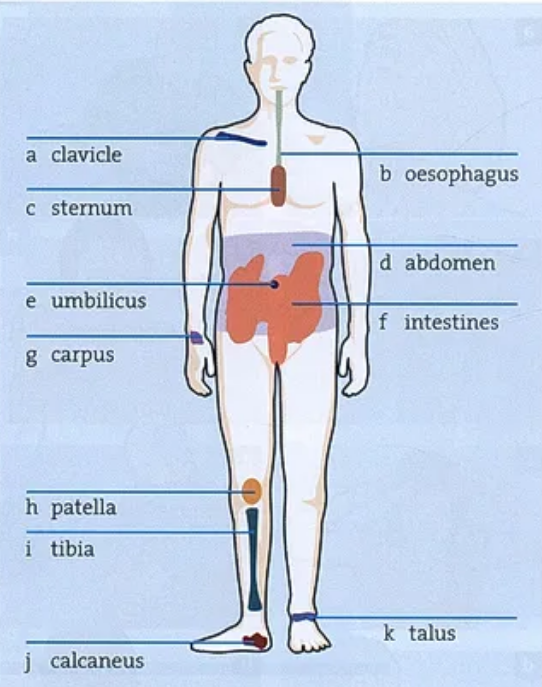 ---
Pronunciation
Medical terms: word stress
1.

Write words from a-k above that match each of these stress patterns.

---
2.

Listen and check your answers
---
2.

Decide how you would differentiate between the pain in b-e in 1. Give reasons for your answer.
3.

For each description, write M (mild), S (severe), or V (very severe). Then say which condition a-j in 1 each patient below is possibly describing.
---
4.

You ask a patient to describe pain on a scale of 1 to 10. What other ways can you ask a patient to assess the severity of pain?
It's my job
1.

Before you read the text about Dr Henderson, a cardiologist, discuss what do you think being a cardiologist involves.
2.

All of the statements below are true. Find information in the text to support each statement.

1. Dr Henderson's team is very skilled.

2. The work of her team depends on the support of other people.

3. Details about the closest relative are taken from patients.

4. Patients have two numbers (other than their phone number) on their hospital records.

5. The data collected need to be accurate.

6. Checks are carried out to make sure patients are who they say they are.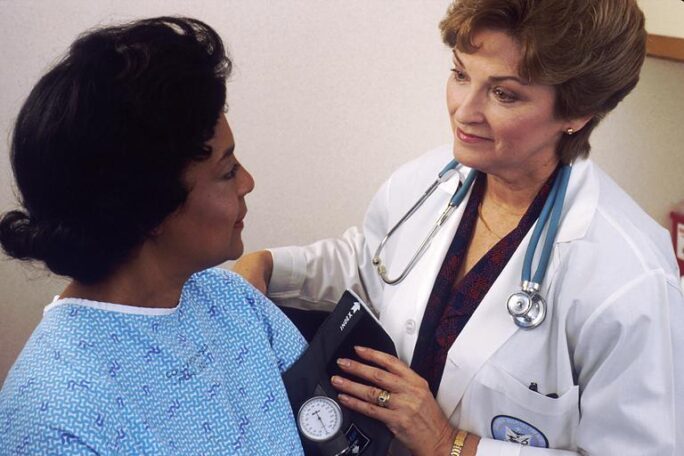 ---
Listening 2
Presenting complaints
1.

What do you think each patient in pactures a-h might be complaining of?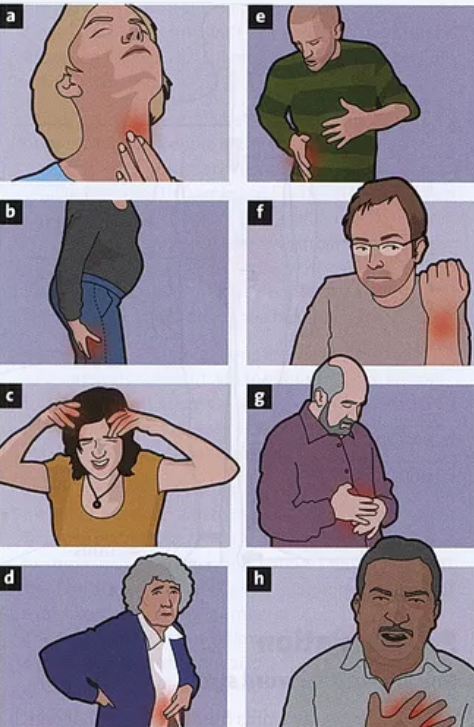 2.

Listen. Match each picture in 1 with a conversation.
---
---
3.

Listen again. What three questions are used by the dictor to ask about the presenting complaint (PC)?
---
---
4.

Take turns describing a patient you have treated with a problem related to the parts of the body a-k and then answer questions from your teacher.

What…

— …investigations did you carry out?

— …was the treatment?

— …was the prognosis?
---
Vocabulary
Describing pain
1.

Which descriptions 1-10 do you associate with the conditions a-j? In some cases, there may be more than one answer.

Use 🔗Page Marker to complete this task
1. piercing / boring
a. sciatica
2. extremely severe / intense
b. ureteric colic
3. aching
c. acute pancreatitis
4. scalding / burning
d. appendicitis
5. like a tight band around my head
e. degenerative arthriris
6. dull / persistent / vague
f. cluster headache
7. excruciating / thunderclap
g. cystitis
8. shooting
h. tension headache
9. spasmodic
i. sub-arachnoid haemorrhage
10. crushing / gripping
j. angina pectoris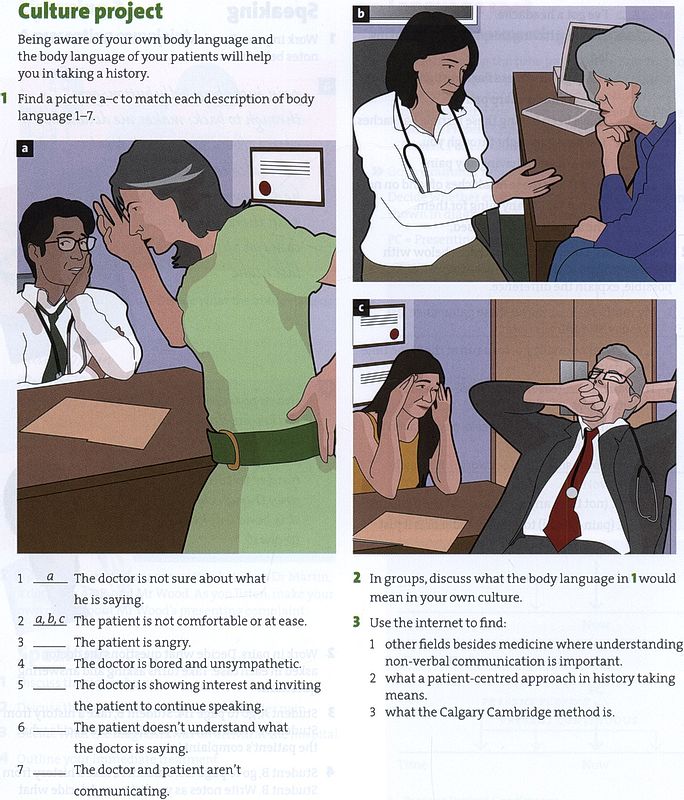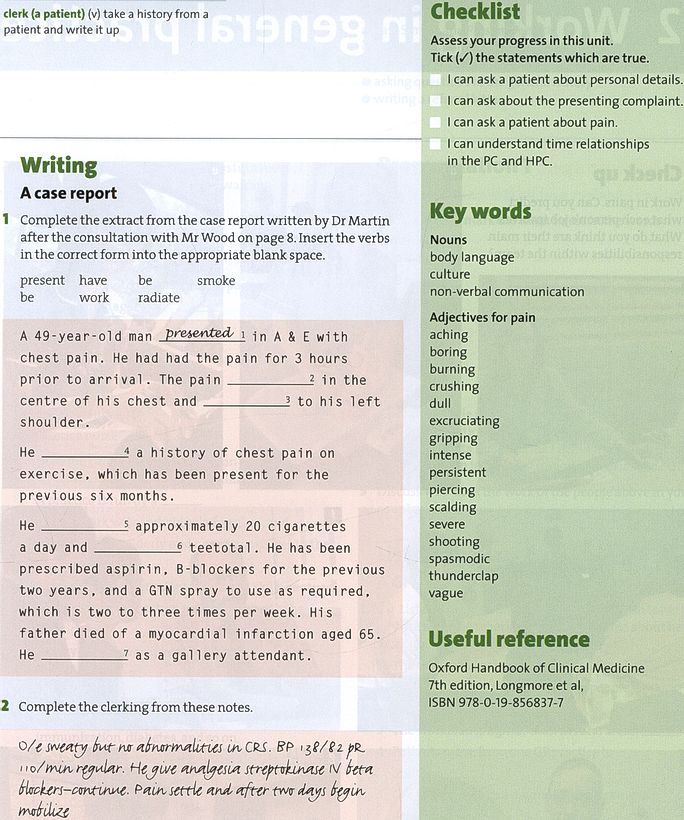 Personal details
Present complaints
A presenting complaint
Culture project
A case report