Self-study|IT|Int|Lesson 1: What is IT today?

---
Let's find out what this course is going to be about
Expectations
Choose what you expect to be able to do after completing this course
---
Course structure
Study the topics you are going to study during the course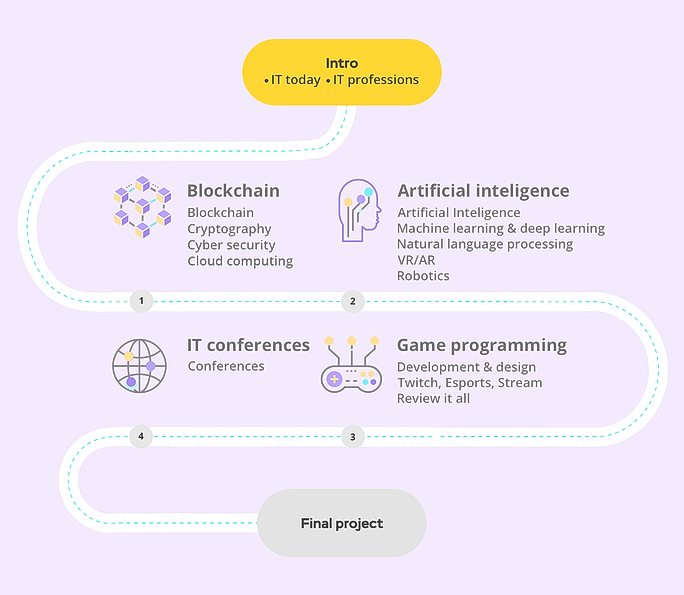 ---

Let's see what you know about IT. Read the questions and choose the right answers

Think of the following questions:

In what ways has sharing information become easier?

How can people access the Internet nowadays? How did it differ in the past?

How will technology change in the future?
Read the text about the evolution of IT and do the tasks
---
Order the things according to the time they appeared
---
Look through the things and mark which of them refer to the past, present and future according to the text

Learn about some technology trends. Complete the tasks
Common trends
Look at the picture and answer the questions. Write your answers in the text area below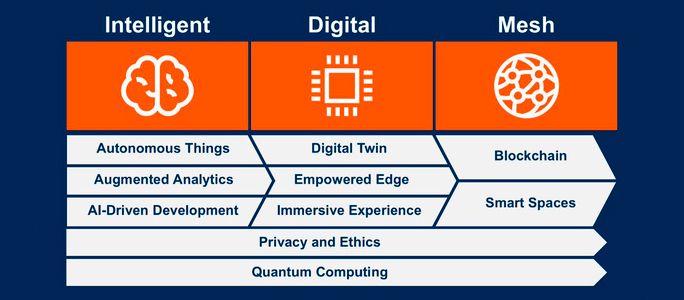 ---
Intelligent tech trends
Listen to the audio and mark the sentences as True or False
Before listening, study the following words and their definitions:

Glossary

to augment — to make something larger, stronger, or more effective
a natural language interface — a user interface that allows people to interact using a human language, such as English, as opposed to a computer language
a data set — a collection of related sets of information that is composed of separate elements but can be manipulated as a unit by a computer
---
---
Get to know more
Read more about these technology trends in the article provided below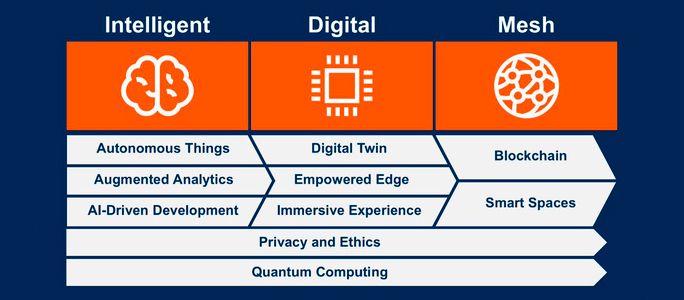 Autonomous things
Autonomous things, such as robots, drones and autonomous vehicles, use AI to automate functions previously performed by humans. Their automation goes beyond the automation provided by rigid programming models, and they exploit AI to deliver advanced behaviours that interact more naturally with their surroundings and with people.
Augmented analytics
Augmented analytics focuses on a specific area of augmented intelligence, using machine learning (ML) to transform how analytics content is developed, consumed and shared. Augmented analytics capabilities will advance rapidly to mainstream adoption, as a key feature of data preparation, data management, modern analytics, business process management, process mining and data science platforms.
AI-driven development
The market is rapidly shifting from an approach in which professional data scientists must partner with application developers to create most AI-enhanced solutions to a model in which the professional developer can operate alone using predefined models delivered as a service. This provides the developer with an ecosystem of AI algorithms and models, as well as development tools tailored to integrating AI capabilities and models into a solution.
Digital twins
A digital twin refers to the digital representation of a real-world entity or system. By 2020, Gartner estimates there will be more than 20 billion connected sensors and endpoints, and digital twins will exist for potentially billions of things. Organizations will implement digital twins simply at first. They will evolve them over time, improving their ability to collect and visualise the right data, apply the right analytics and rules, and respond effectively to business objectives.
Empowered edge
The edge refers to endpoint devices used by people or embedded in the world around us. Edge computing describes a computing topology in which information processing, and content collection and delivery, are placed closer to these endpoints. It tries to keep the traffic and processing local, with the goal being to reduce traffic and latency.
Immersive experience
Conversational platforms are changing the way in which people interact with the digital world. Virtual reality (VR), augmented reality (AR) and mixed reality (MR) are changing the way in which people perceive the digital world. This combined shift in perception and interaction models leads to the future immersive user experience.
Blockchain
Blockchain, a type of distributed ledger, promises to reshape industries by enabling trust, providing transparency and reducing friction across business ecosystems potentially lowering costs, reducing transaction settlement times and improving cash flow.
Smart spaces
A smart space is a physical or digital environment in which humans and technology-enabled systems interact in increasingly open, connected, coordinated and intelligent ecosystems. Multiple elements — including people, processes, services and things — come together in a smart space to create a more immersive, interactive and automated experience for a target set of people and industry scenarios.
Digital ethics and privacy
Digital ethics and privacy is a growing concern for individuals, organizations and governments. People are increasingly concerned about how their personal information is being used by organizations in both the public and private sector, and the backlash will only increase for organizations that are not proactively addressing these concerns.
Quantum computing
Quantum computing (QC) is a type of nonclassical computing that operates on the quantum state of subatomic particles (for example, electrons and ions) that represent information as elements denoted as quantum bits (qubits).

Listen to the second part of the audio and match the beginnings of the sentences to their endings
Before listening, study the new words and phrases and their definitions:

an edge device — a device which provides an entry point into enterprise or service provider core networks, e.g. routers, routing switches, integrated access devices
to ramp up — to increase in volume, amount, or rate
augmented reality — an interactive experience of a real-world environment where the objects that reside in the real world are enhanced by computer-generated perceptual information
---
---
Listen to the last part of the audio and complete the sentences with the missing words
Before listening, study the new words and their definitions:

a blockchain — a system in which a record of transactions made in bitcoin or another cryptocurrency is maintained across several computers that are linked in a peer-to-peer network
a ledger — a book in which things are regularly recorded, especially business activities and money received or paid
immutable — not changing, or unable to be changed
---

Read the situation below and fill in the gaps
---
Describe the latest IT trends in the context of the situation described above. Use some of the words and phrases from the list below
When preparing your speech, follow the steps below:
Define the trends.
Provide examples of their uses.
Talk about their application in your country if any.
Explain how your performance at work can be improved or deteriorated with their application.
Speculate about their future uses.
Express your personal opinion about the trends.
Wordlist
| | | |
| --- | --- | --- |
| 1. augment | 3. blockchain | 5. immutable |
| 2. augment reality | 4. ledger | |
---
Useful language
a natural language interface
a data set
an edge device
Use the voice recorder.

Scanning: reading technique for speeding up your reading

Scanning is the technique you might use when you need to read a text quickly in order to find specific information.

While scanning, you should keep the concept of keywords in mind. Your purpose will determine the keywords. Suppose you are looking for the cons and pros of something, so the keywords to keep in mind are pros, cons, benefits, advantages, disadvantages, etc.

Tips:

Start by thinking up or writing down some questions that you want to answer. Doing this can focus your mind and help you find the facts or information that you need more easily.
Don't try to read every word. Instead, let your eyes move quickly across the page until you find what you're looking for.
Use clues on the page, such as headings and titles, to help you.
Scan the article and mark the sentences as True or False
The Fourth Industrial Revolution: What it means, how to respond
The Fourth Industrial Revolution represents a fundamental change in the way we live, work and relate to one another. It is a new chapter in human development, enabled by extraordinary technology advances, which are merging the physical, digital and biological worlds in ways that create both huge promise and potential danger.
The Fourth Industrial Revolution's technologies, such as artificial intelligence, genome editing, augmented reality, robotics, and 3-D printing, are rapidly changing the way humans create, exchange, and distribute value. As occurred in the previous revolutions, this will profoundly transform institutions, industries, and individuals.
Like the revolutions that preceded it, the Fourth Industrial Revolution has the potential to raise global income levels and improve the quality of life for populations around the world. In the future, technological innovation will also lead to a supply-side miracle, with long-term gains in efficiency and productivity. Transportation and communication costs will drop, logistics and global supply chains will become more effective, and the cost of trade will diminish, all of which will open new markets and drive economic growth.
At the same time, as economists Erik Brynjolfsson and Andrew McAfee have pointed out, this revolution could yield greater inequality, particularly in its potential to disrupt labour markets. As automation substitutes for labour across the entire economy, the net displacement of workers by machines might worsen the gap between returns to capital and returns to labour. On the other hand, it is also possible that the displacement of workers by technology will result in a net increase in safe and rewarding jobs.
By recognizing the risks, whether cybersecurity threats, misinformation on a massive scale through digital media, potential unemployment, or increasing social and income inequality, we can take the steps to align common human values with our technological progress and ensure that the Fourth Industrial Revolution benefits human beings first and foremost.
We need to shape a future that works for all of us by putting people first and empowering them. In its most pessimistic, dehumanized form, the Fourth Industrial Revolution may indeed have the potential to «robotize» humanity and thus to deprive us of our heart and soul. But as a complement to the best parts of human nature — creativity, empathy, leadership — it can also lift humanity into a new collective and moral consciousness based on a shared sense of destiny. It is necessary for us all to make sure the latter predominates.
---
You can read the 🔗full article here and try the new reading technique in action.

Read the comments on the Fourth Revolution and fill in the gaps
Comments
Alex Wilber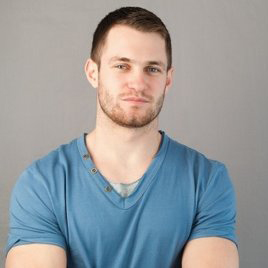 Alison Doyle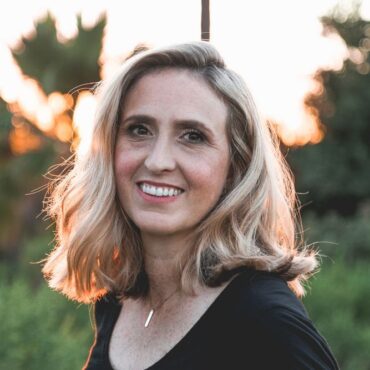 ---
Read the comments again and answer the questions. Use some of the phrases in the lists
To what extent do you agree or disagree with the opinions in the comments?
What's your opinion on the topic?
What other possible dangers of the technological revolution can you think of? Why?
Useful language
Expressing opinion
In my view …
My impression is that …
Personally, I think …
Expressing doubt
… seem unlikely because …
… seem unlikely because …
I find it difficult to believe that …
Speculating
There's no chance …
I bet …
My guess is that …
I wouldn't be surprised if …
I get the impression that …
Use the voice recorder.
---
Look at your roadmap and see your progress
Introduction
IT in the past and now
IT evolution
Technology trends nowadays
Remaining trends
Describing trends
Homework 1
Homework 2
Homework 3