Teens|Grammar Activating|El|12. All the things we like
Divide the words from the box into the correct categories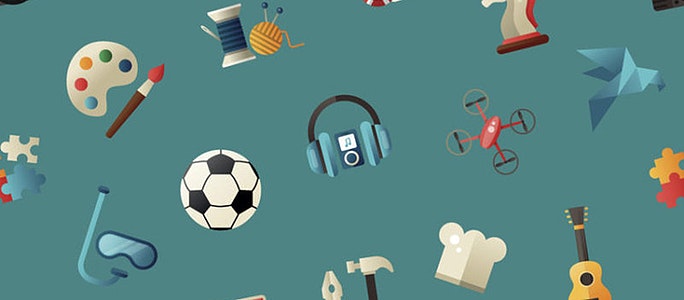 ---
---
Complete the table with the examples of hobbies and sports
read books / surf the net / take photos / rollerblade / draw / listen to music / play computer games / skateboard / play volleyball / play ice hockey / do sport
✔️ I can skate outside or in a sports centre.

I can play video games at home.
Make affirmative, negative sentences or questions
---
---
Say how you feel about doing these activities. Add your own ideas
drinking tea / going to the cinema / eating vegetables / playing board games / listening to music / cleaning the house / talking on the phone / going for walks / painting pictures / singing
Example: I really like playing board games.
Useful language
love
really like
like
… is OK.
don't like
really hate
Turn over the cards and make your dialogues using the patterns in the table
---
Ask
Answer

Do you like V+ing?
When do you V?
What do you V?
Why do you like V+ing?
How often do you V?

Yes, I love V+ing.
Yes, V+ing is great!
V+ing is OK.
No, I hate V+ing.
---
Example:
— Do you like shopping?
— Shopping is OK. Do you like reading?
— Yes, I love reading.
Watch the video and tick the correct sentence
---
---
---
The children are good at
a) dancing.
b) singing.
c) doing magic tricks.
---
Look at the photos and complete the sentences
Look at the adverts and complete the information about the clubs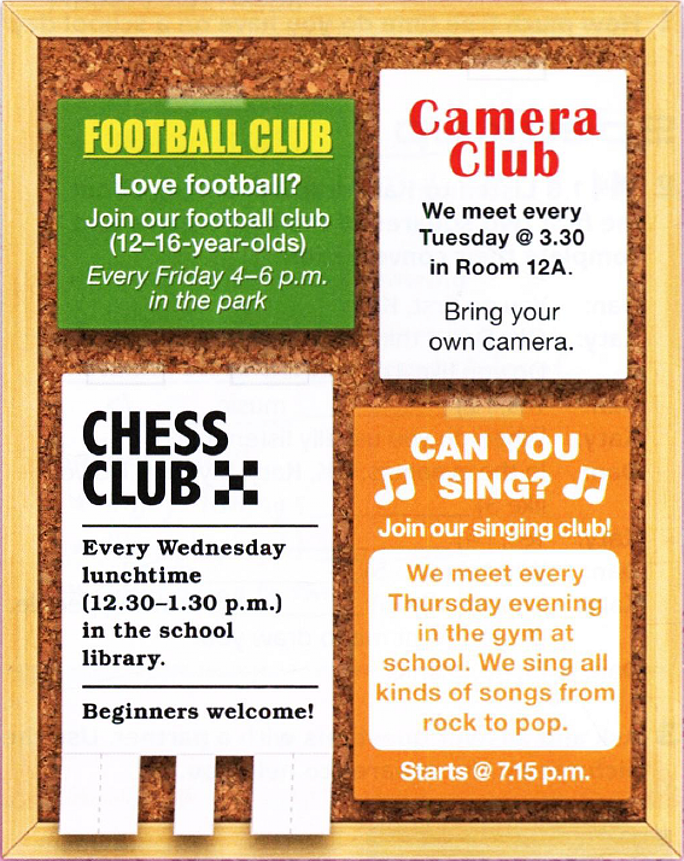 ---
| | |
| --- | --- |
| Name of the club | Details |
| Football club | |
| Camera club | |
| Chess club | |
| Singing club | |
---
Choose and recommend the clubs to your friends
«I'm 13 years old. 

Can I go to the football club?»

«I don't know how to play chess. 

Can I go to the chess club?»

«I love pop music. 

Do they sing pop music at the singing club?»

«I don't have a camera. 

Can I go to the camera club?»

«Are there any clubs 

at the weekend?»
---

---
The things you have learnt today
talk about likes and dislikes;
use -ing forms while talking about likes and dislikes;
say what I am good or bad at;
recommend an after-school club and a free time activity to a friend.
---
Read the article
---
We love cooking
Isabella Bliss and Georgia Bradford have the same hobby: they love cooking. The two teenagers are both winners of the TV show Junior Masterchef. Isabella is a winner of the show in Australia, and Georgia is a winner of the show in the UK.
Isabella is from Brisbane in Australia. She is always in the kitchen with her twin sister Sofia. Sofia also loves cooking and likes entering competitions. Isabella's mother is Italian and her favourite food is Italian food. Isabella wants to open a restaurant with her sister in the future. They want to call the restaurant Is-Sofia. The twin sisters also have a cookbook. It's called A Little Bit of This, a Little Bit of That.
Georgia is from Leigh-on-Sea in England. She loves being in the kitchen. She lives with her parents and her two sisters. She often cooks for her family at home. Georgia's favourite food is fish. She wants to be a chef in the future. Her other hobby is horse-riding. Her dream is to have a family house with horses and a restaurant in Cornwall. Georgia also wants to cook Italian food in her restaurant.
---
Choose if the sentences are True or False
Complete the sentences with the given words in the correct form
---
cook / dance / fish / paint / read / sing
---
Choose the correct option
Урок
Homework
Курс
Popular activities
It's your free time!
Famous people and their likes
She loves dancing
About likes and dislikes
An interview about free time
Make your dialogues
Are you good at it?
After-school clubs
What I can do
Hobbies
Are you keen on it?
They love cooking
Likes and dislikes
What do they like?